LEED and BREEAM: What you need to know
12 September 2019 - Articles
Today, sustainability and sustainable development have become an influential concept in economic, social, and environmental policies of many countries.
Certification systems are generally used for the purpose of sustainability assessment in buildings or urban neighbourhoods. In other words, they are a quantitative standard to measure the concept of sustainability and to rate buildings and projects according to predefined criteria. The two main well-known certification systems are LEED and BREEAM.
Certification systems are categorized based on the evaluation subject (house building, office or commercial building, neighbourhood, etc.). In recent years a lot of attention has been given to sustainability assessment in neighbourhoods as cities and districts directly influence climate change, demographic and economic changes.
Table 1: Certification Details
| | | | | |
| --- | --- | --- | --- | --- |
| Certification | Title | Year | Country | Certification for Neighbourhood |
| LEED | Leadership in Energy and Environmental Design | 1998 | USA | LEED-ND |
| BREEAM | Building Research Establishment Environmental Assessment Method | 1991 | UK | BREEAM Communities |
LEED
LEED, an acronym for Leadership in Energy and Environmental Design, is a family of green building rating systems developed by the United States Green Building Council (USGBC). LEED provides verification of high environmental performance in building and neighbourhood design and construction. Since the first LEED pilot program in 1998, LEED has become the most widely-used green building certification system in the United States.
LEED has grown to become the world's most widely used green building rating system, with nearly 80,000 projects participating in LEED across 162 countries.
LEED-ND (Neighbourhood Development) was fully launched in 2010. LEED-ND takes the green certification concept beyond individual buildings to entire neighbourhoods. LEED-ND contains a set of measurable standards that collectively identify whether a development or proposed development can be deemed environmentally superior, considering the development location and access, its internal pattern and design, and its use of green technology and building techniques.
All LEED rating systems contain a combination of required prerequisites and optional credits.
Since 2009, all LEED rating systems including LEED-ND evaluate projects based on a 100-point scale. Projects seeking certification must meet all prerequisites and earn at least 40 points by achieving various credits.
Table 2: LEED rating system
| | |
| --- | --- |
| LEED ratings | Points |
| Platinum | 80 points and above |
| Gold | 60-69 points |
| Silver | 50-59 points |
| Certified | 40-49 points |
BREEAM
BREEAM was the world's first environmental assessment method for new building designs. Over 15 000 projects have been certified over 50 countries since BREEAM was first launched in 1990. It uses a balanced scorecard approach with tradeable credits to enable the client to decide how to achieve optimum environmental performance. Over the years, BREEAM has been regularly updated and applied to an ever-growing range of development types, designs and lifecycle stages. BREEAM standards ensure that the environmental impacts of the built environment are mitigated whilst providing social and economic benefits.
BREEAM Communities is aimed at a wider group of stakeholders involved in building development. It provides design support and assessment across all development life cycle stages, including master planning of large-scale developments. In BREEAM Communities the environmental assessment method gives greater consideration on social and economic impacts of the developed community.
This framework considers key environmental, social and economic factors and opportunities at the earliest stage of the design process. It recognises that the selection of an appropriate site is a critical factor in determining how sustainable a new development will be, however, there are many further stages of performance evaluation for communities.
The BREEAM rating is as follows. An unclassified BREEAM rating represents performance that is non-compliant.
Table 3: BREEAM rating system
| | |
| --- | --- |
| BREEAM rating | % Score |
| Outstanding | ≥85 |
| Excellent | ≥70 |
| Very | ≥55 |
| Good | ≥45 |
| Pass | ≥30 |
| Unclassified | >30 |
LEED VS BREEAM Certification
Table 4: LEED VS BREEAM Certification
 

LEED-ND

BREEAM Communities

Certification Criteria

- Smart Location & Linkage

- Neighbourhoods Pattern & Design

- Green Infrastructure & Buildings

- Innovation & Design Process

- Regional Priority Credits

 

- Climate & Energy

- Resources

- Place Shaping

- Transport & Movement

- Community

- Ecology & Biodiversity

- Business & Economy

- Buildings

Certification Process

- Conditional Approval of Plan

- Pre-Certificate

- Certificate: Post Construction Stage

- Interim Certificate (optional): Planning Stage

- Final Certificate: Post Construction Stage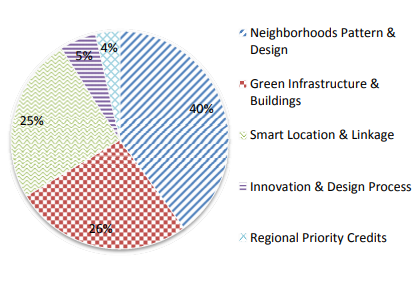 Figure 1: LEED Certification Criteria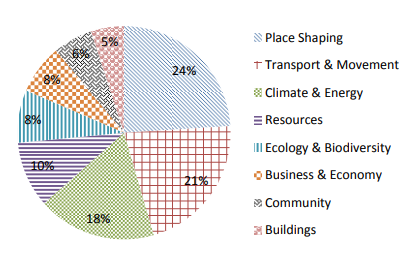 Figure 2: BREEAM Certification Criteria
Green Future
If we want to work towards a more sustainable future it is important for building consultants to adapt as well. Green building certification programs like BREEAM and LEED help us define and measure what a sustainable building is. A 'green' building is a building that, in its design, construction and operation, reduces or eliminates negative impacts, and can create positive impacts, on our climate and natural environment. Attaining such certifications demonstrates environmentally responsible building practices. As a firm of MEP Consultants and Green Building Consultants, we firmly believe developing innovative approaches to positively impact the environment. Our sustainable building services are comprehensive and encompass all aspects, right from the planning phase to the end of the construction. We have a dedicated team of LEED Consultants and BREEAM Consultants who work together with our clients to help them attain certification.
Many developers pursuing environmentally sound principles would fit it in their interest to obtain a green stamp of approval for their projects. This acts as a boost to the image of the property owner as well. The benefits to the owners and occupants include: healthier indoor air quality, reduced energy and water consumption, a more efficient use of infrastructure in urban areas, where water, sewer, and electric grid systems are likely to be overtaxed. The US Green Building council states that LEED buildings have faster lease-up rates and retain higher property value.